News & Events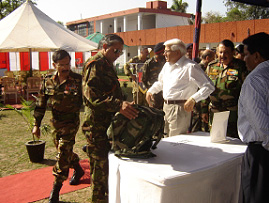 Commending the Texplus Quality
Reaching out to the User - understanding and meeting his operational requirements: Texplus Fibres products were highly appreciated by Commanders of Formations and Units at an exclusive Exhibition of Textile based Equipment and accessories (held at a Corps HQ in J&K).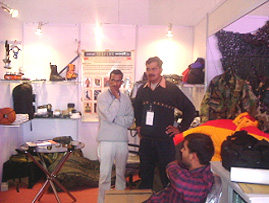 Defexpo 2006
At the Defexpo 2006 - International Exhibition of Defence Equipment held at Pragati Maidan, New Delhi, our products evoked world-wide interest. A number of manufacturers are approaching us for trade tie-ups all over the world. We have since tied up with some of the world leaders and are negotiating with a few others.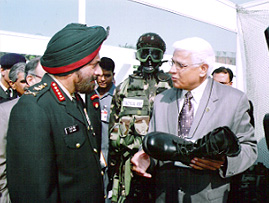 Exhibition-cum-Seminar
At the first ever Exhibition-cum-Seminar (Future Infantry Soldier as a System - F-INSAS) at Hotel Grand New Delhi (23-24 Nov 06) the top brass of the Indian Army including Gen JJ Singh, Lt Gen Devraj Singh, Lt Gen Dillon, Lt Gen DDS Sandhu visited Texplus Fibres and, evincing keen interest, commended the quality and versatility of our products.
India's Chief of the Army Staff, Gen JJ Singh at Texplus Fibres Stall – examining an Anti-mine Shoe during F-INSAS Exhibition-cum Seminar (co-sponsored by CII and Infantry Directorate Army Headquarters) at Hotel Grand New Delhi